I love live acoustic music spaces. Indoor or outdoor.  Inspired by the elements — sky, space, water — playing for listeners, meditators, creating music for ceremonies and gatherings.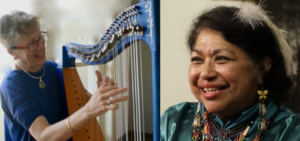 Julia & The Eagle Celebrate A Cross Cultural Journey
Join Julia Haines, Harp & Voice and Matoaka Little Eagle, Song and Story, at the Olive Free Library, Rt. 28 A, Olivebridge, NY
$15 suggested donation-Sliding scale available
A portion of the proceeds will benefit the Olive Free Library
Flying, soaring across cultures, Julia and Matoaka celebrate our Earth and the Elements in music, song and story. We'll take you there.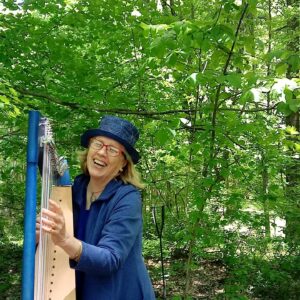 Summer Concert Series at the Rail Trail Cafe
I'll be playing June through September at the beautiful Rail Trail Cafe, under the canopy of trees.
Performance dates coming soon.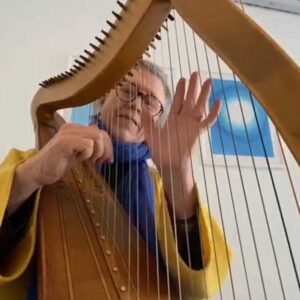 Saturday February 19, 2022
10:00-11:30 am EST
Chennai Storytelling Festival 2022
THUNDER: The Voice of the Mother, performance and panel discussion, facilitated by Laura Simms, with Anita Ratnam, storyteller and dance, and Julia Haines, Harp and voice.
As a prelude to the discussion on the Great Mother Culture, Julia's offering will be a performance of her setting of the ancient text, Thunder: Perfect Mind.
Livestreamed on Zoom
To Register for this and all free Events, send email to info@storytellinginstitute.org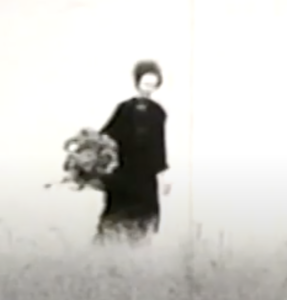 Anthology Film Archives in New York City showed the 1975 film Transformation by Barbara Hirschfeld, soundtrack by Julia Haines, with the New Cadre Feminist Collective. A fascinating feminist experimental fiction shot on location in Vermont. Watch the film here.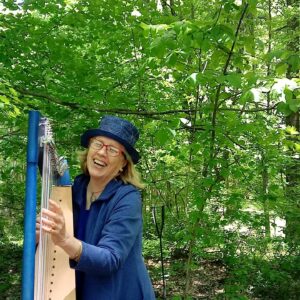 Saturday, August 14, 2021
7:00pm – 9:00pm
Meeting in the Woods: Harp Improvisations
Harp improvisations to fill the air of the inspiring natural sound space at the Rail Trail Cafe.
Concert: Wild Wisdom, Sinterklaas Festival

House Concert:  Wild Wisdom, Barrytown, New York

Music Meditation:  Golden Day 2/29/20 Matagiri Sri Aurobindo Center,  Woodstock, New York

Conference: Healing Power of the Imagination, Stone Ridge, New York

Summer Concert Series at the Rail Trail Cafe: Harp Bandit, Julia Haines: Blessings for the Animals & the Earth.